Message from the Health Officer for Los Angeles County
Muntu Davis, MD, MPH
November 20, 2018
Influenza is here. Early immunization can prevent illness, hospitalization or death.
Dear Los Angeles County Residents,
It's November! Almost time for the holidays. Have you gotten your influenza ("flu") immunization? The traditional season for influenza is here. Flu is a contagious respiratory illness caused by influenza viruses. These viruses are mainly spread when droplets, made when people cough, sneeze or talk, land in your nose or mouth or are inhaled into your lungs. While flu circulates worldwide throughout the year, the Flu season in Los Angeles County has started and typically runs from the first week of October through the end of March. Depending on the circulating flu virus, a person's age, and their prior health conditions flu can cause mild to severe illness, and at times can lead to death.
Everyone 6 months of age and older should get immunized as soon as possible. Influenza immunizations remain an available and effective tool against the most common flu viruses during the flu season. So, get your flu immunization today and help prevent the flu. This is no time for complacency.
Anyone, including an ordinarily healthy person, can get the flu, and serious problems related to flu can happen at any age. However, the following groups of people are at high risk of developing serious complications if they get sick with influenza: people 65 years and older, people of any age with certain chronic medical conditions (such as asthma, diabetes, or heart disease), pregnant women, and children younger than 5 years.
We must urgently come together as a community to reverse an unfortunate trend. Did you know that Los Angeles County recorded a higher influenza activity in the past 2017–18 season (Oct. 1, 2017–May 13, 2018) more than the previous five influenza seasons? Public Health recorded a total of 278 influenza associated deaths last flu season, exceeding any other flu season since the county initiated mandatory flu reporting.
The first and most important step in preventing flu and reducing the chance of you spreading flu is to get your flu immunization. Flu immunizations have been shown to reduce flu related illnesses and the risk of serious flu complications that can result in hospitalization or even death.
Also, take the following everyday preventive actions to help slow the spread of germs that cause respiratory (nose, throat, and lungs) illnesses, like flu or a cold. Stay away from people who are sick, cover your coughs and sneezes and practice frequent handwashing. If you are sick, stay home and stay away from other people. This should be done until at least 24 hours after you no longer have a fever or signs of a fever (chills, feeling very warm, flushed appearance, or sweating) without the use of fever-reducing medicine, such as acetaminophen, ibuprofen or naproxen, among others.
The Los Angeles County Department of Public Health offers flu vaccination at no charge to people without health insurance or whose healthcare provider does not offer flu vaccination. You can find your local public health center, and the many available influenza community outreach clinics here. They are listed by city, dates, and supervisorial districts.
If you have health insurance, please contact your regular health care provider or insurance provider to confirm the cost. The cost to get immunized of the flu varies at pharmacies and community clinics. You may need to call ahead to confirm the cost.
The Los Angeles County Department of Public Health has also compiled the following toolkits designed to help schools/childcare centers, businesses, Los Angeles County workers and the community at large prevent the flu. These are printable materials explain the need for yearly flu immunization, highlight ways to prevent the flu, and offer targeted approaches to preventing the flu:
Your, your family and your friends overall good health is our priority here at the Los Angeles County Department of Public Health. We remain committed to our vision of creating, "Healthy People in Healthy Communities." Be safe this Flu Season. Make immunization against the flu a high priority. Take those everyday preventive actions to help slow the spread of germs that cause the flu in our community.
More information on the 2018/2019 Flu Season in Los Angeles County is available at http://publichealth.lacounty.gov/media/FluSeason/.
Sincerely,
Muntu Davis, MD, MPH
Los Angeles County Health Officer
---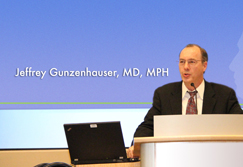 Message from the Interim Health Officer for Los Angeles County
Jeffrey Gunzenhauser, MD, MPH
June 18, 2018
Dental Scams: Protect Yourself and Your Family

Preventing and treating dental disease is essential to maintaining overall health and well-being at every stage of life. Children need their baby teeth to eat and speak properly, and to help keep the space in their jaw for adult teeth to settle in. During adulthood, poor oral hygiene and lack of proper dental care can lead to a serious form of periodontal disease called periodontitis, a gum infection that may cause bleeding, pain, and damage to tissue and surrounding bone, which may result in tooth loss. In fact, researchers have found that periodontitis is linked to diseases such as diabetes and heart disease. Older adults may experience increased tooth decay (caries) from having a dry mouth caused by taking multiple medications. Older adults are also at higher risk for mouth cancer, which can be diagnosed early during routine dental exams and treated early for optimal outcomes.
Even though dental health is extremely important, many people do not see a dentist every year. Co-pays and other costs may be expensive even if someone has dental insurance. Patients may worry that they cannot afford to pay for dental care and, as a result, might look for cheaper options that could be risky. This might explain why unlicensed dentistry is becoming an increasing problem in Los Angeles County.
Unlicensed Dentistry is a Serious Problem in Los Angeles County
People who seek care from an unlicensed dentist usually find out about the services by word of mouth and may be tempted by promises of lower costs or minimal wait times for appointments. Some consumers seek this care only to learn later, often after unexpected complications, that the person who performed the dental treatment was not licensed or qualified.
Unlicensed dentists perform a range of unlawful and potentially dangerous practices including invasive dental procedures like tooth extractions and root canals, or tests like x-ray imaging. They work in offices, homes, and other non-clinical, unhygienic settings such as hair salons, garages, and restaurants. They may also operate illegal dental laboratories that make poor quality or harmful implants and dentures. People who practice illegally may have limited dental experience such as a dental assistant or a dental laboratory technician, may have been dentists in other countries but are unable to meet California's licensing standards, or have had their license revoked by the Dental Board of California due to malpractice or illegal activity.
Getting dental care from an unlicensed person can lead to dangerous complications, permanent injury, and chronic health problems. It can also delay or prevent a person from getting the proper treatment they need. In one recent case, a woman was convicted of practicing dentistry without a license from her living room. She injured a patient during a procedure that led to hospitalization and risk of permanent nerve damage. A patient of another convicted unlicensed dentist became seriously ill with an infection and ultimately lost several teeth after having a dental procedure in a garage.
How Can I Get Safe Dental Care?
Consumers may not know that free or low cost, safe dental care is available in Los Angeles County to any child or adult who needs it regardless of their ability to pay or their immigration status. All adults and children (after their first birthday or once the first baby tooth has erupted) must visit a licensed dentist for check-ups and preventive care semi-annually and maintain a minimum daily dental hygiene routine that includes brushing and flossing twice per day. Take the following steps to ensure that you and your family have safe dental care.
Find a Dental Care Program. There are several Los Angeles County dental clinics that provide preventive and emergency dental services at low or no cost. To learn more:
Check your dentist's professional license on the Dental Board of California website. All dentists practicing in California are regulated by the Dental Board of California.
Shop around. Don't be shy about calling or visiting the dental office before deciding on a dentist. Schedule a consultation time to meet with the dentist and staff before making an appointment, and do not be afraid to ask for a second opinion.
Don't ever take the risk of going to an unlicensed dentist. It can lead to cause serious harm.
How Can I Report a Problem?
If you have been a victim of a dental scam or someone pretending to be a dentist, call the Los Angeles County Department of Consumer and Business Affairs at 1-800-593-8222. This hotline provides services in multiple languages. Staff can help you report a problem to the police or file a complaint with the Dental Board of California.
You can also file a complaint with the Dental Board of California if you think you have encountered an unlicensed dentist or have concerns about dental care you have received.
Visit the Department of Public Health's Health Care Consumer Protection website for more information on how to protect yourself and your family from dental and other health scams.

---
March 23, 2018
Infant Mortality
Infant mortality, defined as the death of a baby before her or his first birthday, is one of the most important measures of the health of a community. Improvements in the ability of all infants to survive the first year of life has been a long-standing public health goal, as the infant mortality rate is widely recognized as a fundamental measure of a country's health and well-being. Infant mortality is typically measured as a rate and expressed as the number of infant deaths out of every 1,000 live births. In 2014, the rate in the US was 5.82 infant deaths per 1,000 live births. Although the overall national rate decreased by 15% in the decade prior to 2014, significant differences between racial/ethnic groups persist. Most notably, the infant mortality rate for African-American babies in the US is more than double that of white babies. These inequities are also evident here in Los Angeles County, where African-American infant deaths are three times higher than those among white infants. This gap is unacceptable in light of efforts by other communities that have been successful in narrowing the divide.
A multitude of factors create this health inequity, including poverty, educational attainment, racism, intimate partner violence, the environment, and access to quality health care. Although these risk factors are diverse and complex, closing the equity gap is largely attainable. As a result, the Los Angeles County Department of Public Health has identified infant mortality as a priority health equity issue and has established the goal of substantially reducing the gap between the white and African-American infant mortality rates within the next five years. Efforts have already begun to reach out to key partners to highlight the inequity, express the Department's commitment to reducing the gap, and identify strategies that are both effective and acceptable.
Our work will need to both recognize the impact of poverty, racism and associated stress on health, and invest in a broad, collaborative effort to address the root causes of inequities in health outcomes. Building on a strong foundation of initiatives housed in clinical settings, communities, and the homes of women themselves, new efforts will be anchored in understanding the challenges facing women of color in Los Angeles County and offering a compassionate, respectful approach to women's daily struggles to address those challenges.
Causes of Infant Mortality
In the US, the top five leading causes of infant deaths are:
Ways to Reduce the Risk of Infant Mortality
The prevention of infant mortality begins before pregnancy occurs. Preconception health and regular prenatal care can help improve the likelihood that an infant will survive to enjoy her or his first birthday celebration. A few helpful tips for mothers and future mothers alike include:
Take good care of yourself: whenever possible, eat healthy foods, exercise regularly, and take a prenatal vitamin with 400 micrograms of folic acid daily before and during pregnancy.
Avoid tobacco: smoking tobacco is associated with having a poor birth outcome. African-American women who smoke have a 20-25% chance of having a preterm and/or low-birth weight baby. All persons in the family environment should also stop smoking to reduce second-hand smoke exposure.
Visit your doctor regularly so that you can best manage health conditions (for example, depression or high blood pressure) and prepare for a healthy pregnancy. This is especially important if you have had a previous poor birth outcome since you may want to consider medical interventions that can help you have a healthy baby.
Protect yourself from Sexually Transmitted Diseases (STDs) before, during and after pregnancy. Congenital syphilis has been increasing nationally as well as locally and can cause severe health effects, even death, for babies born to mothers who are infected. It is important that you and your partner be tested for STDs and take steps to reduce your risk of infection. More information on STDs during pregnancy can be found here.
Multi-lingual resources are available to help you. The Women's Health Hotline 1-800-793-8090 provides information and referrals for health, health insurance, immigration, mental health, social services, family planning, pregnancy, doctor appointments, breast and cervical cancer screening, health improvement skills, dental, vision, immunizations, housing, and access to food. The Los Angeles County Domestic Violence Hotline 1-800-978-3600 can assist you and your family with intimate partner violence issues.
Recognize the power of woman-to-woman support and seek opportunities to join networks of neighbors, friends and family whenever possible.
Healthcare providers and community organizations also play a crucial role in improving birth outcomes. Connect female clients of childbearing age with health and community resources including education, screening, health insurance, housing, and social support. Join with other providers and organizations to create solutions that promote racial equity, counter all forms of discrimination, and support access to opportunities and resources necessary for optimal health and well-being for all. In particular, it is important that African-American women and families are supported before, during, and after pregnancies. Click here to learn more about resources for public health agencies, health care providers, and communities to better understand and reduce infant deaths in the US.
Efforts to Address Racial Inequities in Birth Outcomes in Los Angeles County
The Department of Public Health is committed to protecting and improving infant health in Los Angeles County through an array of programs, initiatives, and collaborative relationships with community organizations. In June 2017, the Department of Public Health convened a meeting to address poor birth outcomes for African-American babies. Over 50 community partners and Los Angeles County Health Agency colleagues discussed the factors that influence the inequity gap and identified potential opportunities for collaboration. In October 2017, the Department of Public Health launched the Center for Health Equity in concert with the Los Angeles County Health Agency and the support of the Los Angeles County Board of Supervisors. The Center's mission includes advancing racial, social and environmental justice in partnership with committed organizations and residents, and one of its initiatives is to close the gap between African-American and white birth outcomes. Many other activities are underway to ensure healthy babies, mothers and families in Los Angeles County. Additional information and local resources on having a healthy pregnancy and child can be found on the Los Angeles County Department of Public Health's Maternal, Child & Adolescent Health web page.